Modest 3pc Islamic Womens Swimwear Full Coverage Burkini With Long Sleeve And Turban Muslim Maillot De Bain
Introducing our 3pcs Modest Muslim Women's Full Cover Burkini Swimwear with Long Sleeves. Designed for the stylish, contemporary Muslim woman, this swimwear provides modest full coverage without compromising on fashion or comfort. It is perfect for those seeking a balance between traditional values and modern style.

Made from a premium blend of Lycra and nylon, this Burkini is soft, lightweight, and breathable. It offers high stretchability for a comfortable fit, allowing you to move freely in and out of the water. The robust fabric ensures durability and resistance to wear and tear, making it a reliable and long-lasting addition to your swimwear collection.

The set includes a long-sleeve top, bottoms, and a turban, ensuring full coverage in line with Islamic dressing guidelines. The turban is a stylish addition that not only respects religious customs but also adds a fashionable touch to your swimwear ensemble.

The swimwear is available in nine size zones, accommodating women of all heights and body types. With its Bohemian young style, it represents a fusion of tradition and trend, making it a unique choice for Muslim women.

This Burkini is easy to care for, suitable for hand wash, ensuring it stays fresh and clean for everyday use. Whether you're heading to the beach or the pool, this modest swimwear set keeps you comfortable and confident.

Choose our 3pcs Modest Muslim Women's Full Cover Burkini Swimwear with Long Sleeves for a modest, stylish, and comfortable swimwear solution. It's more than just a swimsuit; it's a celebration of your identity.

Note: The swimwear is not see-through, owing to the high-quality materials and excellent craftsmanship.

#ModestSwimwear #MuslimSwimwear #MaillotDeBainMusulmanFemme #MaillotDeBainFemme #MaillotsDeBainsMusulmans #MuslimDressWomen #MuslimWomenClothing #Abaya #AbayasForWomen #Hijab #BurkiniModestSwimwear #SwimsuitWomen #MuslimSwimmingSuitForWomen
Features and Benefits:
Made from a premium blend of Lycra and nylon, this Burkini is soft, lightweight, and breathable, making it comfortable for extended wear.
High stretchability ensures a comfortable fit, allowing you to move freely in and out of the water.
The robust fabric ensures durability and resistance to wear and tear, making it a reliable and long-lasting addition to your swimwear collection.
The set includes a long-sleeve top, bottoms, and a turban, ensuring full coverage in line with Islamic dressing guidelines. This comprehensive set respects religious customs while also adding a fashionable touch to your swimwear ensemble.
Available in nine size zones, this swimwear accommodates women of all heights and body types, making it an inclusive choice for all Muslim women.
Bohemian young style represents a fusion of tradition and trend, making it a unique choice for Muslim women.
Easy to care for and suitable for hand wash, ensuring it stays fresh and clean for everyday use.
High-quality materials and excellent craftsmanship ensure that the swimwear is not see-through, offering you privacy and peace of mind.
Perfect for visiting the beach or the pool, this modest swimwear set keeps you comfortable and confident, allowing you to enjoy your time in the water without any discomfort or self-consciousness.
With its stylish and modest design, this Burkini is more than just a swimsuit; it's a celebration of your identity.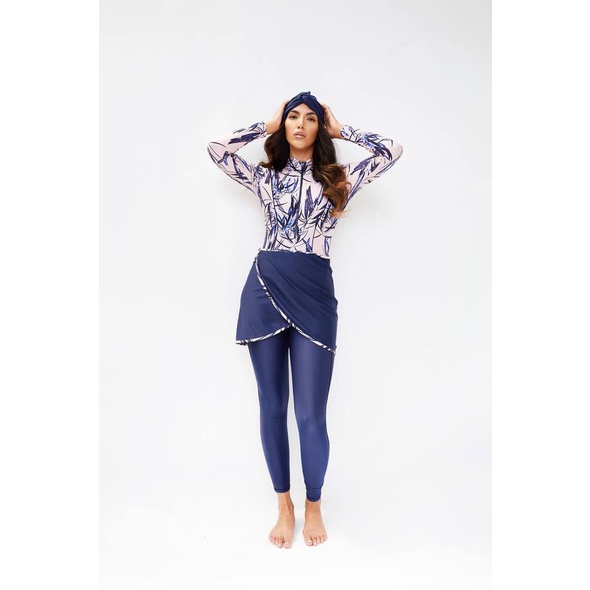 | Size | 1/2 wide shoulder | 1/2 Front | Front garment length | Sleeve length | 1/2 waist relaxation | 1/2 waist length | 1/2 thigh circumference | Full minister |
| --- | --- | --- | --- | --- | --- | --- | --- | --- |
| M | 36.2 | 47 | 87.7 | 57.2 | 30 | 46 | 49.9 | 87 |
| L | 37.4 | 49 | 96.5 | 58.2 | 32 | 50 | 51.9 | 87 |
| XL | 38.6 | 51 | 97.2 | 59.2 | 34 | 54 | 53.9 | 87 |
| XXL | 40.4 | 53 | 98 | 59.7 | 36 | 58 | 55.9 | 87 |
| XXXL | 41.6 | 55 | 98.8 | 60.2 | 38 | 62 | 57.9 | 87 |
| 4XL | 43.2 | 57 | 99.6 | 60.7 | 40 | 64 | 59.9 | 87 |