Summer Fashion Couples Harajuku Streetwear Tshirts 100 Cotton Cool Drinking Bear Design Oversize Short Sleeve Tees
Show off your love and style with our Summer Fashion Couples Harajuku Streetwear Tshirts. Made from 100% cotton and featuring a cool drinking bear design, these oversized short sleeve tees are the perfect addition to your summer wardrobe.

Unlike the typical tees, these are designed with a relaxed, oversized fit for a trendy Harajuku streetwear look. The loose fit not only provides a chic, casual style but also ensures maximum comfort during those steamy summer days. Plus, with the O-neck collar and regular sleeve style, it's the epitome of a timeless fashion staple.

These Tshirts don't just look good, they feel good too. The pure cotton fabric offers breathability and softness that's perfect for sensitive skin. And don't worry about any shrinking or stretching, these tees maintain their shape and size, thanks to their slight stretch elasticity.

The adorable cartoon bear design isn't just a stylish element, it's a playful nod to your fun-loving personality. Its neutral color scheme makes it a versatile piece that can be paired with anything from jeans to shorts to skirts.

Designed for individuals aged 18-24, these Tshirts are a must-have item for any young couple. Whether you're on a summer outing or just hanging out indoors, these tees will keep you comfortable and stylish.

So why wait? Get in sync with your partner this summer with our Summer Harajuku Oversized Tees 100 Cotton Cool Bear Couples Tshirts. Make your mark with these unique, trendy tees and let your love shine through your fashion!
Features and Benefits:
Made from 100% pure cotton, making it breathable, soft and ideal for sensitive skin
Features a cool drinking bear design, adding a playful touch to your outfit
Designed with a relaxed, oversized fit, giving a trendy Harajuku streetwear look
Ensures maximum comfort with its loose fit, perfect for hot summer days
Classic O-neck collar and regular sleeve style, making it a timeless fashion staple
Durable with slight stretch elasticity, maintaining its shape and size even after several washes
Versatile and can be paired with a variety of bottoms, from jeans to shorts to skirts
Suitable for individuals aged 18-24, making it an ideal gift for young couples
Can be worn in any casual setting, whether you're on a summer outing or just hanging out indoors
Allows you to show off your love and style in a unique, trendy way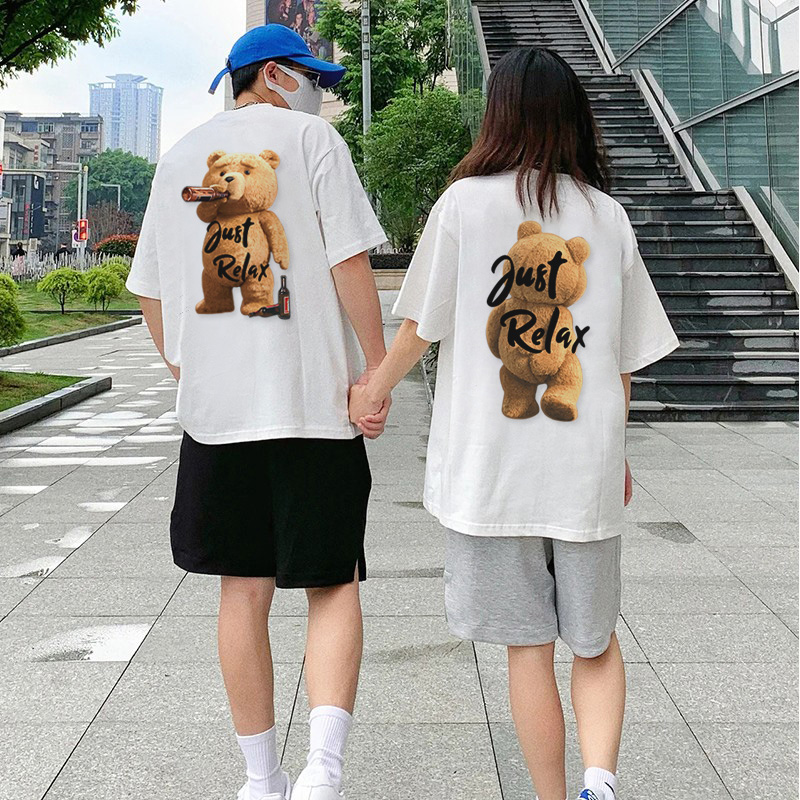 | Size | Length | Bust | Shoulder | Sleeve Length | Suitable height |
| --- | --- | --- | --- | --- | --- |
| S | 62 | 90 | 39 | 17 | 150-160 |
| M | 64 | 94 | 41 | 18 | 155-165 |
| L | 66 | 100 | 43 | 19 | 160-175 |
| XL | 69 | 106 | 45 | 20 | 165-175 |
| XXL | 72 | 112 | 48 | 21 | 170-180 |
| XXXL | 75 | 118 | 51 | 22 | 175-190 |